CAMPAIGN PRESS RELEASE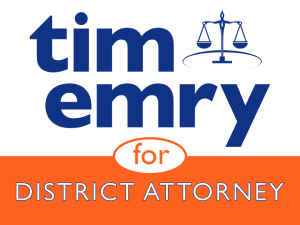 CONTACT INFORMATION:
Citizens for Tim Emry for DA
Tim Emry
(704) 839-6772
[email protected]
FOR IMMEDIATE RELEASE
November 8, 2021
Tim Emry Press Conference Regarding Candidacy for Mecklenburg District Attorney
Charlotte, NC – Criminal defense attorney Tim Emry, who is part of the class-action lawsuit against CMPD, will formally announce his candidacy for Mecklenburg District Attorney at 12:30pm, Tuesday, November 16th at Marshall Park in uptown Charlotte.
Mr. Emry has practiced law in Charlotte for nearly twenty years. He will be running against the incumbent District Attorney, Spencer Merriweather, in the March 2022 Democratic primary. Mr. Emry will be running on a progressive platform of holding police accountable, ending mass incarceration policies, and never pursuing the death penalty.
"We need to transform our justice system to one that is rooted in equity and fairness," Mr. Emry said. "We have a criminal punishment system here in Mecklenburg County; what we need is a criminal justice system."
As District Attorney, Mr. Emry will implement various policies and reforms to make our justice system fairer and more equitable while maximizing the city's public safety. As such, Mr. Emry is the progressive challenge to a District Attorney's office that has failed to deliver meaningful reforms to our justice system.
This announcement event will feature a short speech by Tim Emry announcing his candidacy for District Attorney, followed by questions from the press.
###